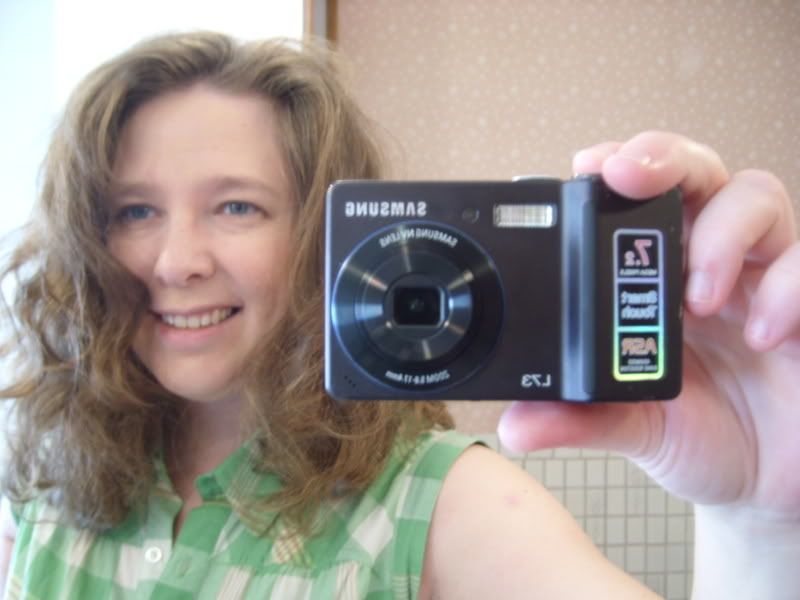 I know I sort of disappeared, but rest assured, it was for a good cause. I traveled back west to visit my family on Thursday and had a simply wonderful time. And I took a TON of photos (me and my new camera above). I still need to download them onto my computer, though, so stay tuned this week for lots of family farm photos (and even cows!), and many more.
Highlights of the trip:
Having supper with my Dad
Staying with my grandmother, talking '40s fashions, looking at family photos, and just enjoying each other's company!
Going to watch Horton Hears a Who with my mom, my daughter, my niece, and my nephew
Hanging out on the family farm all day Saturday, watching the baby calves play, and taking lots of photos!
Going to the neighborhood fish fry with my brother, sis-in-law, niece and nephew, my dad and his girlfriend, and my daughter
Having butterball soup at my grandmother's house for Sunday lunch with everyone
Visiting my grandfather in the rest home
It was hard to come home. I'm very close to my family and I wish we didn't live so far apart. The drive home (5 hours) wasn't too fun and I'm rather stiff and sore this morning as I only took two breaks on that entire 400 mile stretch - guess I really wanted to get home!
Pictures to follow in the upcoming days. Now I'm off to see what you've all been up to!